Welcome to Alexis Park Inn
This boutique hotel in San Francisco city centre near the Tenderloin District and Union Squarewelcomes guests with environmentally friendly guestrooms with modern conveniences and a great location near many of the city's attractions.

Guests at Alexis Park will enjoy guestrooms with amenities such as 32-inch LCD flat-screen TVs, and free wireless internet access.

Just minutes from Union Square, the Moscone Center and the city's financial district, the Alexis is near the best of San Francisco. The hotel is also within walking distance of restaurants, shopping, tours and public transport.

Tenderloin District is a great choice for travelers interested in tourist attractions, architecture and city trips.


Closest Landmarks

Asian Art Museum 0.3 miles San Francisco City Hall 0.4 miles War Memorial Opera House 0.4 miles Bill Graham Civic Auditorium 0.4 miles Orpheum Theatre 0.5 miles Golden Gate Theater 0.5 miles Davies Symphony Hall 0.5 miles San Francisco Symphony 0.5 miles Curran Theatre 0.5 miles New Conservatory Theatre Center 0.6 miles

Most Popular Landmarks

Union Square 0.7 miles Lombard Street 1.2 miles Coit Tower 1.5 miles Ghirardelli Square 1.5 miles Pier 39 1.8 miles Alcatraz 2.9 miles Golden Gate Bridge 3.7 miles Fox Theater Oakland 8.3 miles Paramount Theater 8.5 miles Oakland Museum of California 8.5 miles

Closest Subway & Train Stations

BART - Civic Center Station Subway Station 0.5 miles BART - Powell St. Station Subway Station 0.6 miles Caltrain - 4th & King Street Station Train Station 1.4 miles F-Market Street Car Train Station 1.6 miles
Current Events in San Francisco
Musical comedy show

June 1 - 3, 2017 (also May)

Billed as "the world's longest-running musical revue," Beach Blanket Babylon features Snow White on a trip around the world meeting satirical celebrities, at Club Fugazi for age 21+. Discount tickets $26 to $31.

Silent Film Festival

June 1 - 4, 2017
The San Francisco Silent Film Festival screens important titles from the silent era, often fully restored and with live music, at the Castro Theatre.

Arts festival
June 1 - 4, 2017
San Francisco International Arts Festival features innovative cross-cultural performances by international artists at Fort Mason Center. Discount tickets $7 - $13.

Race-car festival June 1 - 4, 2017

See cars racing and on display at Sonoma Historic Motorsports Festival at Sonoma Raceway.

Film festival
June 1 - 15, 2017
S.F. movie theaters
DocFest is a documentary film festival screening a mix of politics, music, social issues, and youth-oriented subcultures, which also has after-parties.

Mind-reading magician

June 1 - July 2, 2017

Master magician and mentalist Jay Alexander performs comedy, sleight-of-hand, and human lie detection at Marrakech Magic Theater. Discount tickets $23.

Sail on the Bay

June 1 - Aug. 31, 2017
Sail from Pier 39 aboard the Privateer with two drinks.

Morning (2 hours) - Discount tickets $25 - $45.
Afternoon (1.5 hours) - Discount tickets $25 - $35.
Sunset (2 hours) - Discount tickets $25 - $45.

Free entertainment

June 1 - Oct. 29, 2017 (begins May 7)

Hear music concerts and watch dance performances outdoors at the Yerba Buena Gardens Festival. Free. The most popular programs are:

Thursday lunchtime (12:30 to 1:30 p.m.)
Thursday salsa (6 to 7:30 p.m.)
Friday children (plus Sat. June 24 & Sun. Oct. 29)
Weekend sessions

Greek festival

June 2 - 4, 2017

Enjoy authentic Greek food, drink, music, and dancing at the San Jose Greek Festival at St. Nicholas Church in San Jose.

Great rock 'n roll

June 2 - 18, 2017

Smokey Joe's Cafe features 40 rock 'n' roll classics of the 1950s and 1960s (Hound Dog, Stand by Me, On Broadway) written by Jerry Leiber and Mike Stoller at Fox Theatre in Redwood City. Discount tickets $20 to $55.

Classical music for families

June 3, 2017 (2 p.m.)

Music to your Feet features music that makes you want to get out of your seat and dance, performed by the San Francisco Symphony plus professional dancers at Davies Symphony Hall. Discount tickets $15.

Beer festival

June 3, 2017 (7 p.m., VIP 6)

A ticket to San Francisco Beer & Music Festival lets you sample 50 craft beers, with DJs, bands, and food trucks at SOMA StrEat Food Park. Discount VIP tickets $35.

Art & wine festival

June 3 - 4, 2017

The Art and Wine Festival in Walnut Creek features art and crafts vendors, music, food, beer, and wine at Heather Farm Park. Free.

Concerts in the park

June 4 - Oct. 8, 2017 (from April)

Golden Gate Park Band plays a variety of music (classical, marches, opera, swing, and show tunes) at Spreckels Temple of Music in Golden Gate Park. Free.

Jazz festival

June 6 - 18, 2017

multiple locations
Attend more than 40 big-name shows at the San Francisco Jazz Festival at four different venues.

Wine tasting

June 10, 2017 (1 to 5 p.m.)

More than 30 Mendocino wineries and food producers are headed to San Francisco to give you a Taste of Mendocino in the Gallery 308 building at Fort Mason.

Festival of Portugal

June 10, 2017

Enjoy Portuguese food, music, dancing, children's activities, a museum, and a parade at Dia de Portugal Festival at Kelley Park in San Jose. No pets. Free.

International festival

June 10 - 11, 2017

Berkeley World Music Festival is a community festival with a world crafts bazaar, food vendors, and music from Africa, Argentina, Brazil, Israel, New Orleans, and more in two parks.

San Mateo County Fair

June 10 - 18, 2017

You'll find carnival rides, a petting zoo, pig races, fried food, and music acts (with lines) at the San Mateo County Fair at San Mateo County Fairgrounds.

Discount tickets $7.

People in the street

June 11, 2017 (Sunset/Golden Gate Park)

San Francisco neighborhoods
Walk, bike, or roller skate on a city street when most cars are banned for Sunday Streets, which are held about once a month from March to October.

Haight-Ashbury fair

June 11, 2017

Find 200 vendors of food and hippie crafts, a kids' area, and local bands at the Haight-Ashbury Street Fair on Haight between Ashbury and the park. Free.

Triathlon

June 11, 2017

Escape from Alcatraz Triathlon features a 1.5-mile swim from Alcatraz Island to the St. Francis Yacht Club, an 18-mile bike ride, and an 8-mile trail run through Golden Gate Recreational Area. The Fitness Festival at Marina Green is free to all.

Black film festival

June 15 - 18, 2017

San Francisco locations
The San Francisco Black Film Festival celebrates African American cinema and African culture.

Tofu festival

June 17, 2017

Soy & Tofu Festival offers product samples from vendors, food trucks, live performances, games, and a soy and tofu dessert competition at the event center at Saint Mary's Cathedral. Discount tickets $10.

North Beach Festival

June 17 - 18, 2017

North Beach Festival features arts & crafts booths, food vendors, beer & wine gardens, entertainment, street painting, and a kids' chalk area (cost) at Columbus & Grant Avenues. Free entry.

Pirate festival

June 17 - 18, 2017

Take the ferry to the Vallejo waterfront for the Northern California Pirate Festival for entertainment, food & craft vendors, and family fun. No pets. Discount tickets $8.

Father's Day restaurants

June 18, 2017

San Francisco Bay Area
OpenTable lists Bay Area restaurants that offer special brunch, lunch, and dinner menus on Father's Day.

Father's Day music

June 18, 2017

Hear 50 musical groups perform a variety of genres (jazz, blues, classical, pop, rock, klezmer, Greek, Balkan, Indian, choral, and dance) in closed streets and plazas on Palo Alto World Music Day. Free.

Chocolate and Art Show

June 22 - 23, 2017 (8 p.m.)

The Chocolate and Art Show features artists, live body painting, live music, face-painting, and free chocolate at SOMArts Cultural Center for age 21+. Discount tickets $12.

Pride celebration & parade

June 24 - 25, 2017

Celebrate LGBT pride by attending SF Pride at the Civic Center both days and watching the giant Sunday Pride Parade at 10:30 a.m. on Market Street (from Beale to 8th) followed by a VIP Party 2 to 5 p.m.

Music festival

June 25 - Aug. 27, 2017 (Sundays)

Arrive early to hear concerts Sundays at Stern Grove Festival at Sigmund Stern Recreation Grove. Free.

County fair in Marin

June 30 - July 4, 2017

Top music acts and carnival rides are free with your ticket to Marin County Fair, plus a short-film festival, art show, farm displays, petting zoo, and a nightly fireworks show in San Rafael. Expect lines.
---
Hotel Features
Free WiFi
Free Limited Parking
24 Hour Reception Desk
Located in Tenderloin District
32 Inch LCD Flat Screen TV
Cable TV with Extended Channels
Coffee Maker
Air Conditioning
Safe and Desk
Hair Dryer
Free Toiletries
NO Pets Allowed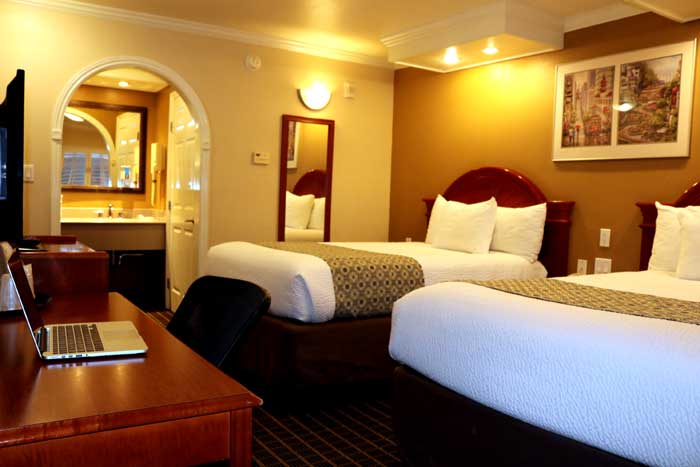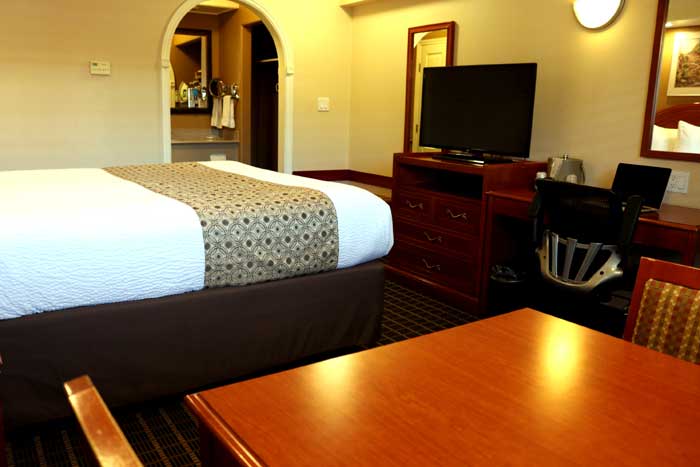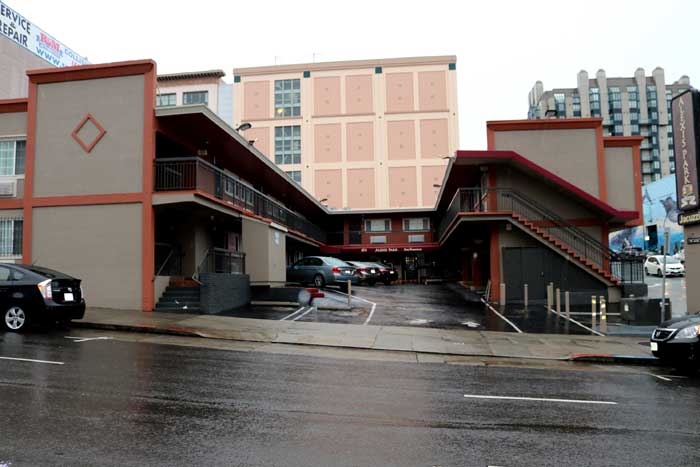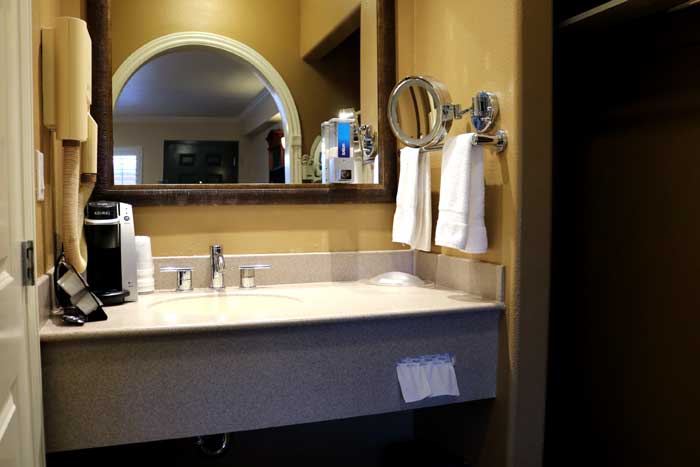 Activities : Here are a few of the very best. And, just click around this web site or search for many more details, pictures, and ideas. For example, check out nearby towns and San Francisco neighborhoods . You'll be amazed at the number of pleasant, beautiful, truly exceptional activities!
Airport : SFO's AirTrain provides year-round service 24 hours a day, with station departures as frequent as every four minutes. AirTrain is wheelchair accessible. Space is designated for wheelchairs at each end of AirTrain cars. Elevator service is available at all AirTrain stations. If you lose an item on AirTrain, you can contact the Lost and Found.
Attractions : Alcazar Theatre: Surrounded by brick apartment buildings and cheap hotels, the neighborhood's most ornate building is a historical landmark and home to hit plays ("The Vagina Monologues" enjoyed a long run here). The Byzantine-style structure -- originally built for the Shriners in 1917 -- is sometimes open for self-guided tours, so call ahead for details. 650 Geary St., (415) 441-4042.
Business : Moscone Center has several conventions with great parking
Dining : The Tandoor-loin Bordered by O'Farrell, Geary, Leavenworth and Taylor streets, a little grid in the Tenderloin has become the unlikely hub of Indian food. In more than half a dozen restaurants in four square blocks, and a couple more places nearby, hip couples in de rigeur black chat on cell phones, women in saris admonish their kids, and cab drivers leave their taxis idling -- all as they down a mango lassi or quick tandoori kebab.
Downtown : San Francisco Bay Ferry operates a ferry from Alameda/Oakland to San Francisco. There are arrivals/departures from Pier 41 at Fisherman's Wharf and the Ferry Building on The Embarcadero. For more information please visit their website .
Events : Welcome to our guide to the biggest and best annual San Francisco events and festivals. Our hand-picked month-by-month selection will provide inspiration for things to do in the city year-round, but events are subject to change so check individual websites or contact the venue before making plans. Further essential dates on the calendar include weekly farmers' markets and food truck gatherings .
Golf : Located within a national park, San Francisco's Presidio Golf Course is renowned for its spectacular forest setting, as well as its challenging play. Once restricted to military officers and private club members, today the 18-hole course is open to the public. Presidio G.C. offers a full service restaurant, a driving range and practice facility, and an award winning golf shop that offers the latest in golf equipment and apparel. Presidio Golf Course is a contributing feature of the Presidio's National Historic Landmark status.
Government : Learn about programs designed to attract and retain businesses in the City ranging from workforce development and neighborhood revitalization, to international business and development planning.
Hospitals : The Emergency Department at UCSF Medical Center provides care to patients with urgent medical conditions ranging from complex problems such as heart attacks and strokes to simple but pressing conditions such as cuts and broken bones. Care is provided 24 hours a day, serving more than 40,000 patients a year.
Shopping : San Francisco offers some of the best shopping in the world, so it is no wonder that tourists and serious shopaholics alike want to spend some time and money in San Francisco's varied shopping centers, districts and malls. Union Square, Hayes Valley, Haight-Ashbury, upper Fillmore, the Mission, Sacramento Street, Chinatown and downtown's San Francisco Shopping Center
Sports : Being a Giants Season Ticket Member means more than just great seats to baseball games at AT&T Park. Along with receiving great savings on your tickets compared to single game buyers who pay dynamic prices, Season Ticket Membership is a package of exclusive perks, privileges and special opportunities.
University : At the University of San Francisco, there's always a spot at the table. Top of their class, first in their family, least included, most likely to — we've chosen to make USF diverse. And it's our job as an inclusive community to find common ground and then move to higher ground. Explore the vision and values that make USF unique.
Wineries : No wine region in California draws as much attention as Napa Valley. For many who are visiting San Francisco, tasting the wines are a must. There are now over 400 wineries in Napa, from mom and pop types of places to large state of the art facilities. If you have a chance to visit while you're in the Bay Area here are 10 that are open to the public for tasting and be sure to keep your eyes open for these producers in local restaurants and wine shops.
Welcome to our great hotel in San Francisco California Union Square Tenderloin District with affordable rates and cheap budget discount lodging. Alexis Park Inn welcomes you to our budget hotel in San Francisco California Tenderloin Union Square. Alexis Park Inn will provide you excellent customer service with great amenities in comparison to all Hotels and Motels in San Francisco California. Please visit us on your next stay in San Francisco California and let us provide you with 4 star hospitality for 2 to 3 star budget rates. Alexis Park Motel has been providing lodging and accommodations in San Francisco California Tenderloin Union Square for sevral years and looks forward to providing our valued customer and business traveler with the best service in San Francisco California for Hotelsand Motels in our local area.
Alexis Park Inn Tenderloin San Francisco California CA Hotels Lodging Accommodations Budget Affordable Motels Cheap Vacation Packages Specials Weddings Business Travelers Business Meetings Extended Stay. Alexis Park Tenderloin is one of the finest Hotels and Motels in San Francisco California Tenderloin District Union Square